Be up-to-date with my startup journey
The start of my weekly newsletter to keep you up to date with my startup journey. Currently, I am still working a full-time job. Part-time, I am working on publishing an app.
I wanted to start a weekly newsletter to document my business journey. These weekly newsletters will be shorter than my longer articles. If you do not want to receive them, you can unsubscribe here from this weekly newsletter by turning off the toggle at "Thakzhan's Startup Journey". If you aren't subscribed yet, you can click here to follow my journey.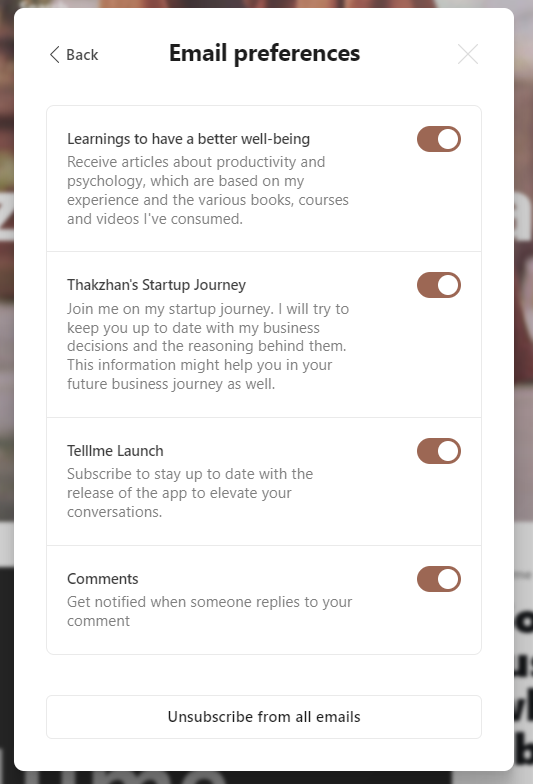 Why a weekly newsletter?
As already mentioned, I want to document my business journey. By documenting, other people (e.g. you) can read about my experience and might learn something from it. Also, by documenting, I can look back after a long time at some of my old posts and I will see how my life has changed since then.
My plan is to spend only a little time editing this weekly newsletter, so that I can keep up publishing every week. I hope people will enjoy reading it.
Highlights ✨
If you don't know yet, I am working on an app right now. My business partner, Rama, with whom I'm working with just came back from America. She was there for her master's thesis. On Thursday, we did lots of catchup talk and yesterday, I convinced her to start her own blog. That felt pretty nice. Next week, I will give you more updates regarding the app.
I recommended a friend of mine who is looking for work this Instagram channel. This is a recruiter, who gives tips on how to find work, how to negotiate correctly and everything else which is career related. Absolute recommendation.
And that's it with the first startup-journey-post. Over the time, I hope I will improve this newsletter bit by bit.
Cheers,
Thakzhan 🐾