How to get permission from your employer to start a business
If you want to start your own business part-time next to your full-time job, then you should check your work contract. It might say that you have to get permission first or else you might get some consequences. I already wrote a little about it in this article "Ask for permission from your employer".
Since I also want to start my own business, I had to ask for permission as well. In this article, I want to tell you how I asked my boss for permission. (Spoiler-alert: my boss congratulated me after he read my mail.)
I will show you how to structure the mail to increase the likelihood of a positive response from your boss.
Structure of the mail
First, I want to say, that there is no perfect mail to send to your boss for asking for permission. It depends on your work-environment and the relationship you have with your boss. But I still want to show you the mail I wrote, so that you can have an idea what you could include in your email-request.
And yes, I wrote a mail instead of writing a chat-message via Microsoft Teams, because I wanted to make sure that our conversation cannot be deleted. This way, we would have proof that we actually talked to each other. It's not that I don't trust my boss, but it's just like with a contract. Better to be safe than having problems later on. Also, I just thought that an email looks more professional than a teams-message and my work-contract also required a written approval.
I wrote the mail directly to my boss and didn't include anyone else in the CC or BCC.
You can read the mail I sent below.
The email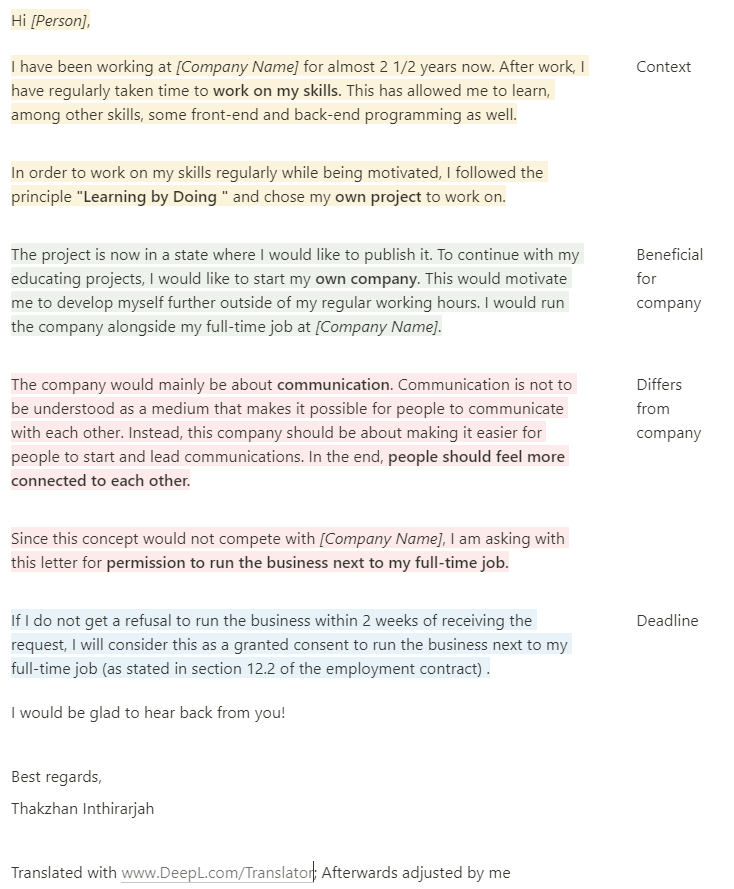 Context

I started with the context. The readers need to know what it's about. Of course, they should already know after reading the subject line of the mail. But the context gives you the power to let the readers know why you want to start a business and you let them take part in your thought-process.
You might have multiple reasons and, most likely, a prominent one would be to earn money. But I would recommend to only state one reason, because this will make your story sound cooler. If you state multiple reasons, then it might sound as if you are trying to squeeze out all the reasons which come to your mind, just to impress your boss. This might make you appear desperate as well. Find one reason which resonates with you a lot and which might also resonate with your boss.
I would suggest not to state money as the reason, because you don't want to seem like someone who only starts a business to earn a lot of money. In the business-world - at least in the romanticised success-stories - they tell you if you don't find a clear why, you will fail in the long-term. So, find your why.
I wrote I like to learn and improve myself. This is true, and this is also why I read a lot of non-fiction books. This reason is really handy, because it can be also seen as beneficial for the company. So, let's go over to the next topic.
Beneficial for the company
When your bosses hear you want to learn outside of your office-hours, then they will be happy that they have a motivated employee who will become an even greater asset to the company.
Differs from your company
It is important to explain what your business is going to be. Don't be too precise, because you don't want to limit the area in which you can move after creating the company, but be sure that you include the overall topic on which you are going to operate. In the end, the employer should not see any overlapping business goals. E.g. if you're employed at Facebook, you should not create another social media app part-time. This could affect Facebook's core business.
Deadline
Include a deadline. This will make your life so much easier, because you don't want to wait for a never coming response. Also, in Germany, it is your right to start a business while working full time. You should just make sure that you do not work in a similar field as in your full-time job. If you do, you might get sued for breaking the competition law.
Be sure to give the recipients enough time to give you a proper answer.
I was lucky, since my work-contract already stated, that if I don't get a response within two weeks, I should see it as permitted.
Response
I sent the mail in the morning to my boss. After he came online, he read it and replied immediately. Before I was able to finish reading his text, he already called me and congratulated me for going this path. He was happy, that I have decided to go this route and he agreed with me that this is the best way to learn new skills and gain new knowledge. Afterwards, he told me an interesting story about his past work life.
After the call, we both found out, that we actually have to fill out a proper document provided by our company. But at least, this mail gave me a good momentum and also made a good impression on my boss.
Cheers,
Thakzhan 🐾
---
Feel free to leave a comment, if you also want to ask for permission at your company. You can also leave any other feedback and we can start a conversation. ;)